Lokalkosmos (solo)
Innovations, the pursuit of the novel and original, will be replaced by infiltration, ironic alienation and quotation. In the background the questions are lurking: which way do the pictures end up inside our heads, and where do they direct the stream of consciousness? Photographs, found footage from magazines and daily newspapers, are reconciled with many pictorial layers to assemblages on the particular image carrier.
Manfred Schneider is getting closer to the pictures in an attitude of doubt. He prefers the heterogeneous or hybrid form for his artistic approach. Text and image, figure and background, abstraction and empathy, ornament and crime make up the poles between which these complex works range…
To Schneider the sifting of images from the media machinery is primarily an emancipating process of self-positioning, and should not be understood as a result of separation anxieties or even capitulation. In fact this selection mode marks a complex fathoming of the dimension of time inside the flow of signs. In this context the picture plane is a place that is intentionally forced into uncertainty, divided into layered areas (one on top of the other, one below the other, one in front of another, and one behind the other) with different surface qualities. A network made of lines connects scattered islands, on which the characters, as protagonists of restlessness, symbolic and narrative at once, persevere in allusive distances. Without inhibitions Schneider smuggles everyday political topics across the borderline between representation and abstraction into the unstable structures of the picture, searching for the tension between stimulation and compression, to incorporate micro and macro perspectives and make temporal images shift permanently.
A veil seems to lie over the motifs, and is reminiscent of the images that stay with us, when we fall asleep while watching television late at night. A sculptural object fits into this context: a cradle coated with newsprint that looks like the cannibalised housing of a television. Instead of a cathode-ray tube, five Mercedes stars are dangling inside, suggesting the dream about a world of reliable prosperity in the local cosmos called living room. At this point it is allowed to raise the question: what kind of impulse does a television cause, if the scale of values communicated subliminally and yet mandatorily is reducible to such a simple-seeming logo or cliché? Therefore Schneider is reflecting with pinpoint accuracy how culture is involved in globalised forms of conflicts, interests and trade relationships. When beholding a standstill painted like this, one cannot be certain as to whether one is in an idyllic situation or in hell. The transitions are fluid. This work makes an emotional appeal to the observer, but never without a self-ironic impetus.
Harald Uhr
Manfred Schneider nähert sich den Bildern im Modus des Zweifels und bevorzugt für seine malerische Annäherung die heterogene oder hybride Form. Text und Bild, Figur und Grund, Abstraktion und Einfühlung, Ornament und Verbrechen bilden die Pole, zwischen denen die komplexen Arbeiten aufgespannt werden.
An die Stelle von Innovationen und der Suche nach dem Neuen und Originellen treten die Infiltration, die ironische Verfremdung und das Zitat. Im Hintergrund nistet nicht zuletzt die unterschwellige Frage, wie denn die Bilder in unseren Kopf gelangen und welche Schlaufen sie dort auszulösen vermögen. Fotografische Fundstücke aus Illustrierten oder Tageszeitungen gehen dabei zusammen mit den malerischen Setzungen zahlreicher Schichten eine montagehafte Verbindung auf dem jeweiligen Bildträger ein.
Das Aussieben von Bildern aus der medialen Bildmaschine stellt für Schneider zuvorderst einen emanzipierenden Vorgang der Selbstverortung dar und ist weniger als Resultat von Verlustängsten oder gar als Kapitulation anzusehen. Weit eher ist damit ein vielschichtiges Ausloten der Zeitdimension im Prozess des Zeichengebrauchs markiert. Der Bildraum ist hierbei ein konstruktiv in die Verunsicherung getriebener Ort, aufgeteilt in über-, unter-, vor- und hintereinander geschichtete Flächen mit unterschiedlicher Oberflächenbeschaffenheit. Ein Gitternetz aus Linien verbindet die eingestreuten Inseln, in denen ein Bildpersonal, zeichenhaft und erzählend zugleich, als Protagonisten der Unruhe in beziehungsreichen Distanzen zueinander verharrt. Auf der Grenzlinie zwischen Darstellung und Abstraktion schmuggelt Schneider völlig ungeniert tagespolitische Inhalte in die labilen Strukturen des Bildes und sucht nach gegenläufigen Verspannungen und Verdichtungen, bei denen Mikro- und Makroperspektiven ineinander geschoben werden und Zeitbilder sich permanent verschieben.
Ein Schleier scheint über den Motiven zu liegen und gemahnt an Bilder, die man mitnimmt, wenn man tief in der Nacht vor dem Fernseher wegdöst. Hierzu passt ein skulpturales Gebilde, ein mit Zeitungspapier ummanteltes Gestell, welches das Gehäuse für einen Fernsehapparat abgeben könnte. Anstelle der Flimmerkiste baumeln in diesem Möbelstück jedoch fünf Mercedessterne und suggerieren den Traum von einer Welt des soliden Wohlstandes im Kosmos des lokalen Wohnzimmers. Gerne darf an dieser Stelle die Frage aufgeworfen werden, welche Impulse ein Fernsehgerät abstrahlt, wenn die unterschwellig vermittelte und Konsens verpflichtende Werteskala auf ein solch simpel anmutendes Signet oder Klischee herunter gebrochen werden kann. Schneider reflektiert demnach sehr genau, wie Kultur in globalisierte Formen von Konflikten, Interessenlagen und Austauschverhältnissen eingebunden ist. Bei seiner Art, den Stillstand zu malen, kann man sich letzten Endes wohl nicht mehr sicher sein, ob man sich in der Idylle oder in der Hölle befindet. Die Übergänge scheinen sich zu verflüssigen. An den Betrachter ergeht ein emotionaler Appell mit selbstironischem Impetus.
Harald Uhr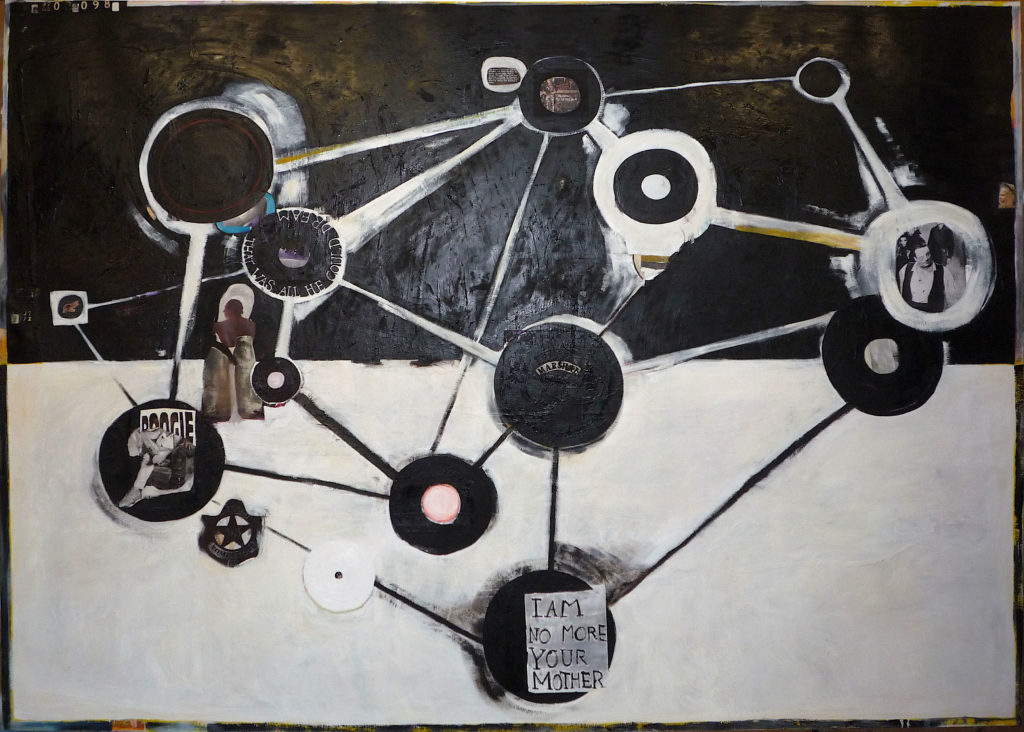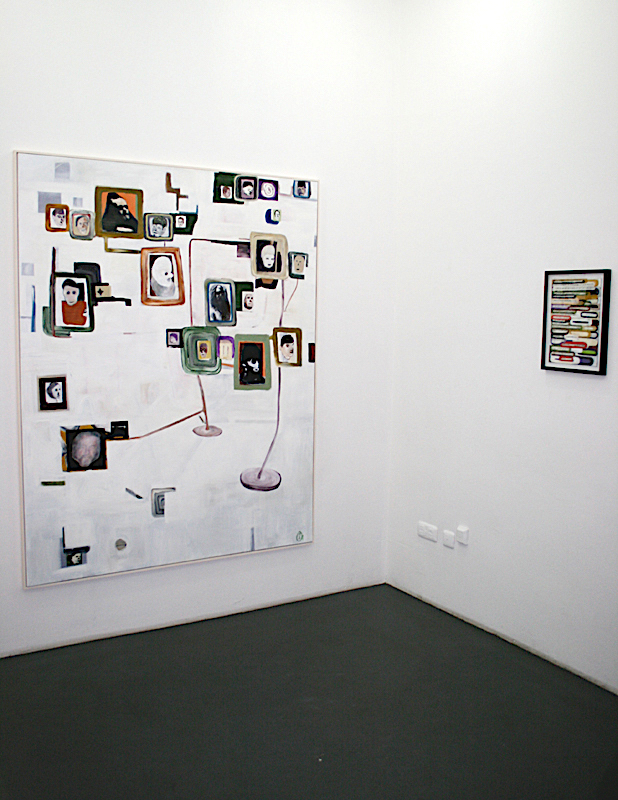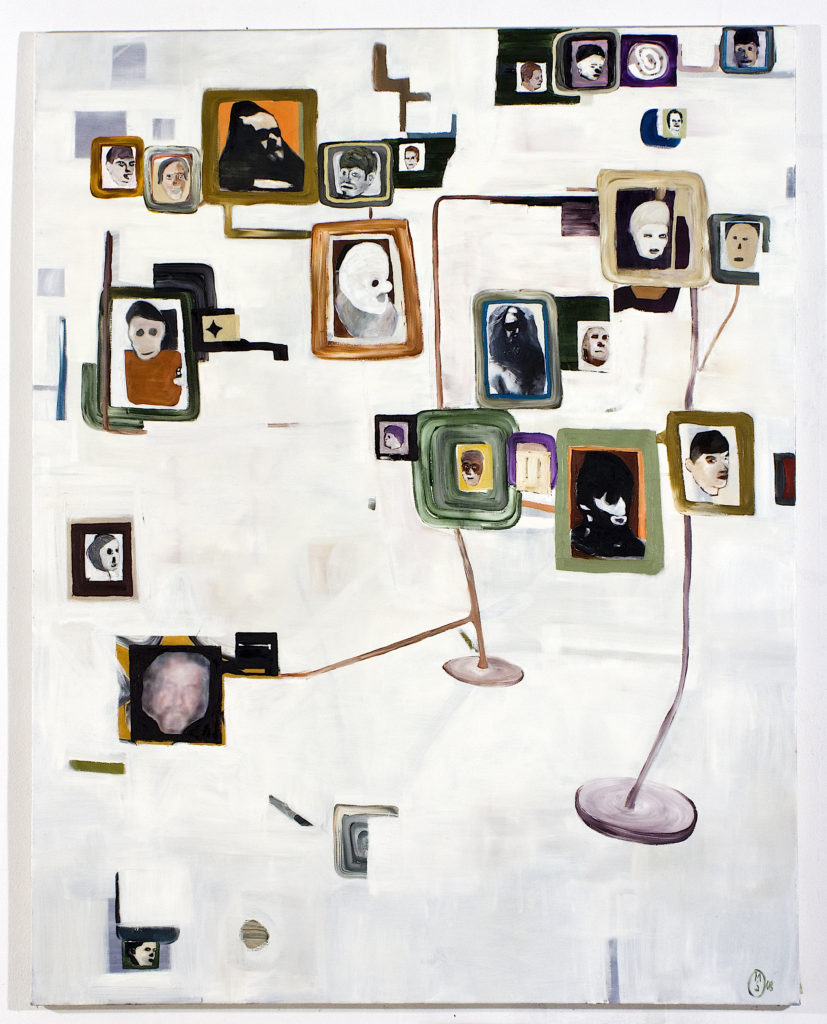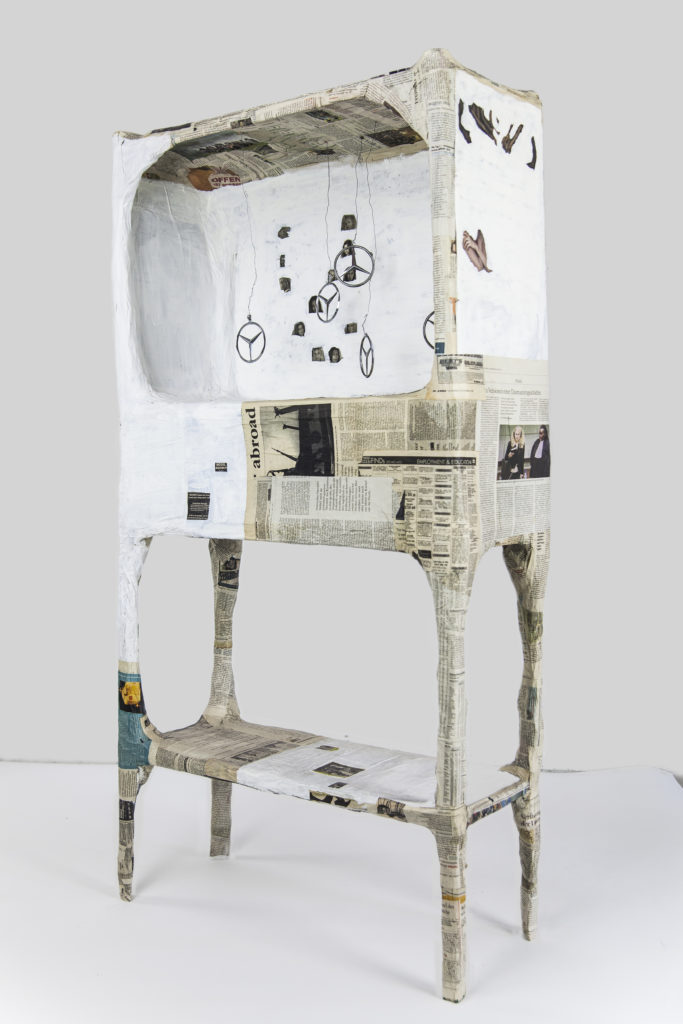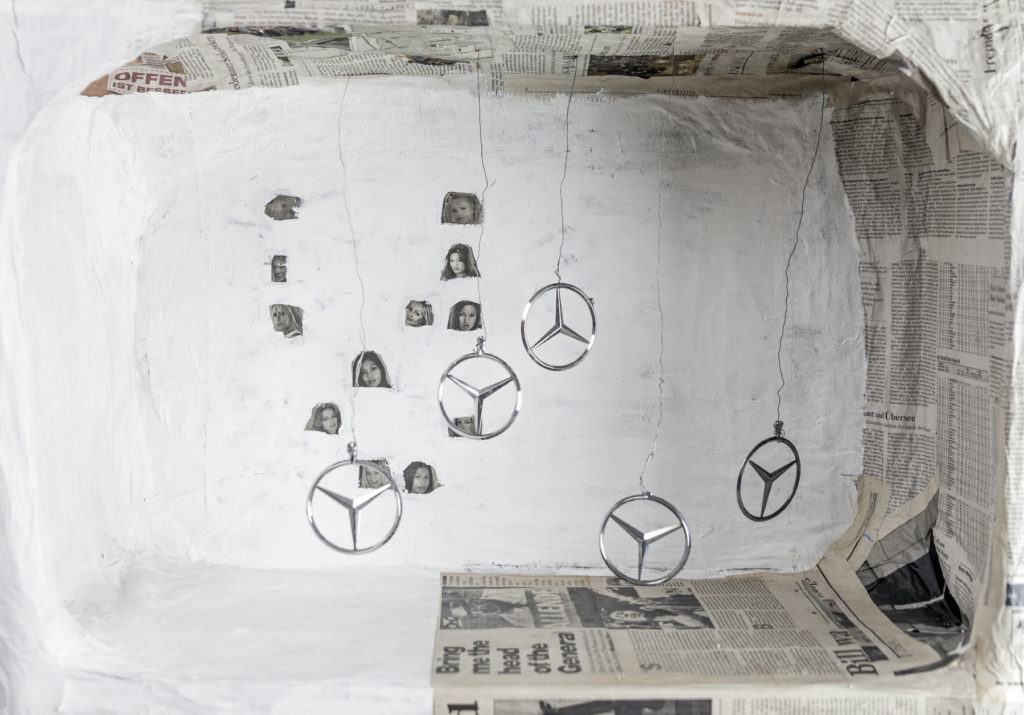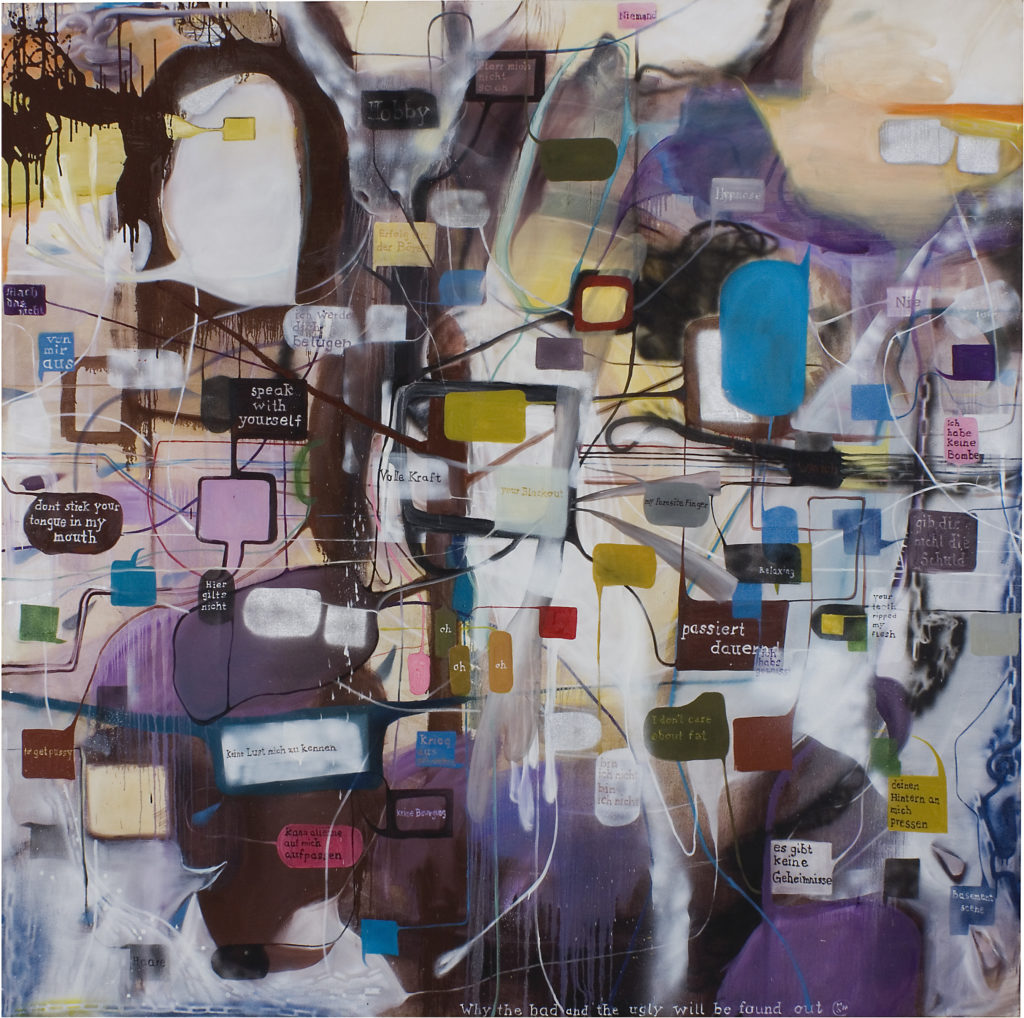 loading...